01 Nov 2019
Demo Days Hype Up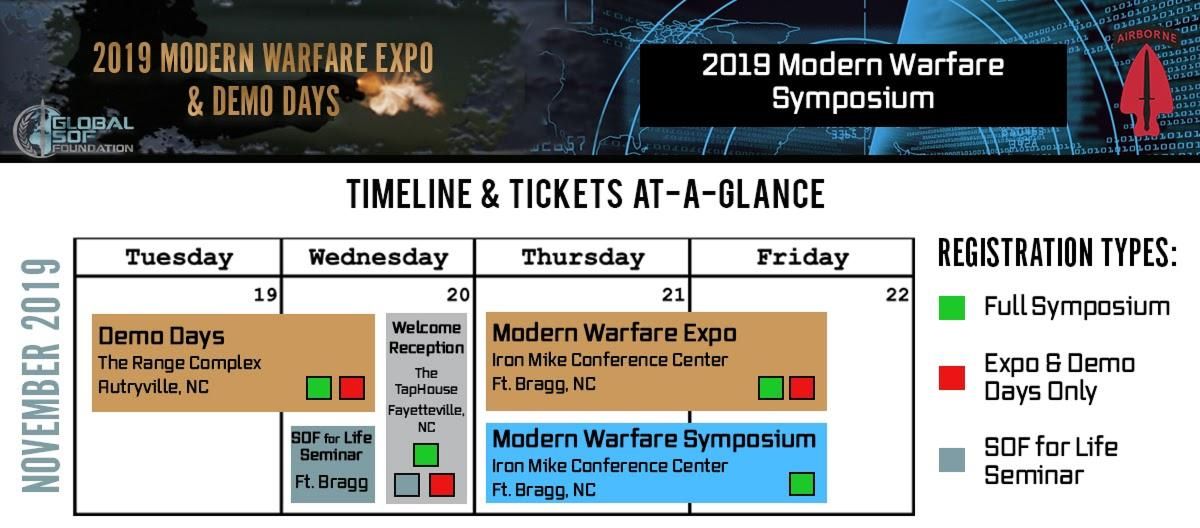 We're just 2.5 weeks from Modern Warfare Week… which if you don't know yet is a series of events we're hosting in the Ft. Bragg area from 19-22 NOV 2019. If you're not familiar, we have a short highlight video, a blog,....
We're just 2.5 weeks from Modern Warfare Week… which if you don't know yet is a series of events we're hosting in the Ft. Bragg area from 19-22 NOV 2019. If you're not familiar, we have a short highlight video, a blog, and of course, this helpful graphic:
—Now that you're caught up…
The focus of today's blog is part one of the week: the Demo Days from 19-20 NOV.
There are some seriously cool capabilities that will be up for use for that 1.5 day event. Vehicles on terrain. Day and night live fire demos. Optics. Moving Targets. The whole sheBANG.
We'll get more into those capabilities shortly, but first we want to cover some of the venue and event highlights.
First off, every event of Modern Warfare Week is FREE to Active Duty Military and Government Civilians. That covers not only the Demo Days, but also the Welcome Reception, Modern Warfare Expo, the Symposium Sessions, and even the SOF for Life Transition Seminar. You can attend one, some, or all of those events…again, for free.
If you don't fit that category and you're industry, academia, or a non-profit… it's not free, but it's very affordable, and even more so if you're a Member or Corporate Partner. See all of the fees and REGISTER on our website.
—
The Stu Review
We aren't just allowing random vendors in to the Demo Days. Most of the capabilities that you'll be able to see, use, and interact with come from GSF Corporate Partners or hand-picked companies that we can't get enough of. Here's a few with reviews from GSF President and CEO, and 32 year Special Forces Officer, Stu Bradin.
DSG Technologies:
From Stu: "The DSG ammo is one of the most disruptive capabilities I have seen in 30 years. It seems capable of penetrating some of the finest Level IV body armor with a 7.62 round and that is really hard to do. Further testing is ongoing and the develop of this capability give SOF an extremely good capability."
Watch the video:
https://vimeo.com/359063475
Also…their bullets shoot through water. If this is news, you need to watch this video, and definitely come to the Demo Days event!
—-
Marathon Targets:
From Stu: "Marathon Targets move like humans and shooting moving targets is really hard. It is easy on TV but in the real world hitting a target on the move is really hard and on a battlefield most moving targets are running. These targets are amazing training devices that make shooting real."
"Moving" is a simplified term for what these targets do… they move quickly and with human-inspired motion, and we're excited to see them in action.
—
American Technology Network (ATN):
From Stu: "I personally have 2 of the ATN scopes and I am blown away by them. They are digital vice analog and this technology is derived from mobile technology. I have spent a lot of money on optics and I never seem to get everything I want in a scope I can afford. The ATN scopes are the best value of night optics I have seen and they give the shooter a lot of options in one scope. If you have not shot one then you need to."
Watch the Video:
https://youtu.be/KTNHf-vpHZQ
Stu and Rick Lamb, our GSF Director of Government Relations, wrote this blog about their first test of ATN capabilities in May.
—
Excelitas:
From Stu: "I shot the Excelitas Technologies optics last year and I was blown away. Their system fuses IR with thermal. It is like being in an Avatar movie. I saw some of their new optics at DSEI in London and I can't wait to shoot them this year because everything has gotten better and that is hard to believe. They are really sweet optics."
An attendee of the August 2018 event uses an Excelitas product.
Most of our team got to use the Excelitas Optics in August 2018 and they were mind-blowing. We can't wait to *see* what this year has to bring.
—
And that's not all!
Those are just a few pieces of what we'll have at the Demo Days on 19-20 NOV. What else is going to make it fun? Thanks for asking:
Feel your roots. We'll be out at the range with some trailers, some food trucks, and lots of cool kit. It's Fall, so the weather should be great and ideal for being outside for a few days.
It's hands on. To remind everyone, there will be opportunities to experience many of these technologies. Things will explode. Targets be shot. Optics be… optics'ed. We'll drive some vehicles and we'll shoot through liquid. This isn't an expo where you're just watching videos.
You'll meet people. The technology is the headline, but the people will be the cherry on top. We're going to have people from all walks of SOF life attending the Demo Days, and everyone is worth introducing yourself to. Grow your knowledge and your network!
—
Sign up NOW.
The time to register is now! Get signed up so that you don't miss out on this week, but especially the first two days.